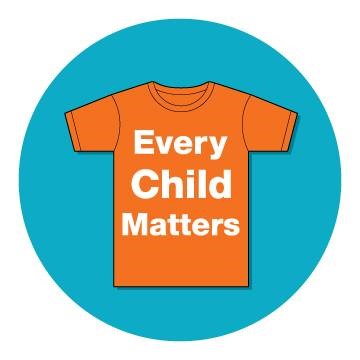 The Saskatchewan Ministry of Education has proclaimed September 30 as Orange Shirt Day. Every year students and school division staff, as well as the public, remember and honour residential school survivor Phyllis (Jack) Webstad. The colour orange is meaningful because Webstad wore a new orange shirt on her first day of residential school and it was taken away from her and never returned. That action caused Phyllis to feel like she was worth nothing so now people wear orange on September 30th to signify that all children matter!
Regina Public Schools uses Orange Shirt Day as an opportunity to teach students and share information with parents and staff about the terrible, multigenerational legacy created by residential schools. Much more than an occasion to wear orange, September 30th, in the first month of a school year, helps educators begin the year with important conversations about reconciliation. It is also a timely starting point for sharing Indigenous ways of knowing, learning from Elders and knowledge keepers, and engaging in land-based education.
Orange Shirt Day Proclaimed National Statutory Holiday
The Government of Canada has proclaimed September 30th as a new statutory holiday called the National Day for Truth and Reconciliation. This proclamation addresses one of the 94 calls to action of The Truth and Reconciliation Commission: "We call upon the federal government, in collaboration with Aboriginal peoples, to establish, as a statutory holiday, a National Day for Truth and Reconciliation to honour survivors, their families, and communities, and ensure that public commemoration of the history and legacy of residential schools remains a vital component of the reconciliation process."
Education is provincially regulated and the Government of Saskatchewan has not declared September 30th as a statutory holiday. All Regina Public schools will have no classes on this day. We will wear Orange on the 29th.
 Regina Public Schools is on Treaty 4 Territory and in the Homeland of the Métis. The school division looks forward to the 2022-2023 school year and the opportunity every day, not just on September 30th, to learn and teach curriculum that honours Indigenous learnings.